read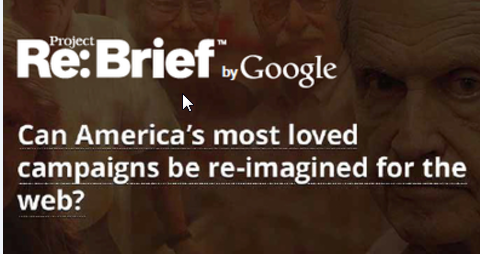 Over the past years Google has been trying to go beyond search, diversifying their revenue sources. But despite recent progress with Content Network and YouTube, the marketing community still see the search giant as a way to drive conversion at the bottom of the funnel. In order to move to the next level, Google has to prove they can create emotional connections with consumers.
Enter Project Re:Brief, just announced during SXSW.
According to Aman Govil, Google's Product Marketing Manager, the idea was to "re-imagine iconic campaigns of 4 classic global brands through the lenses of modern technology". The project aims to be a benchmark of what is possible when you have the right idea and the perfect balance between creativity & technology.
The brands were carefully selected: Coca-Cola with Hilltop, Volvo with Drive it like you hate it, Avis We try harder, and Alka-Seltzer I can't believe I ate the whole thing.
 
The secret sauce was that they brought back from retirement the original creators of these 4 campaigns, and paired them with digital creatives, so they could re-imagine their original creations, leveraging today's technology.
It was fascinating to see people like Harvey Gabor (Coca-Cola's Hilltop, 1971) working with a bunch of twenty-something, and discovering how to use touch screens, mobile, realtime web.
I had the opportunity to chat with Aman and Drew (the global creative director for the new campaigns) to understand how they pulled it together. Surprisingly, each project took just 2-3 months, and were executed with a relatively small budget ("Less than a TV spots", told me Drew). Seems the advertisers were initially resistant to touch iconic pieces like Hilltop, but eventually understood the spirit of the project, and loved the opportunity to work with the original creators.
What is even more fascinating is that not a single can of Coke or Alka-Seltzer was sold because this initiative. Google pulled this off not to help their clients sell more, but to help themseves. The target audience was marketers and agencies, hoping they would talk, comment, write blog posts. It doesn't get more meta than this.
Check out more at www.projectrebrief.com, and look for the documentary later this year.
Update 2012-06-22: the full documentary is now available on YouTube.